Khushi was actually my junior when I was in college and she had gradually gained weight over the last few years during and after college. College and personal issues combined had led to her weight gain. Khushi started working with me in late 2020 when she was applying to various universities for her master's degree in business.
Challenges Presented
Over our conversations, I found out that she had mild anxiety issues regarding food. Specifically, the anxiety would arise whenever she would feel guilty after overeating even in the slightest. She would feel anxious because she felt that even a single episode of overeating would lead to weight gain. Her anxiety reduced considerably when I told her that one meal can't make or break her dieting efforts.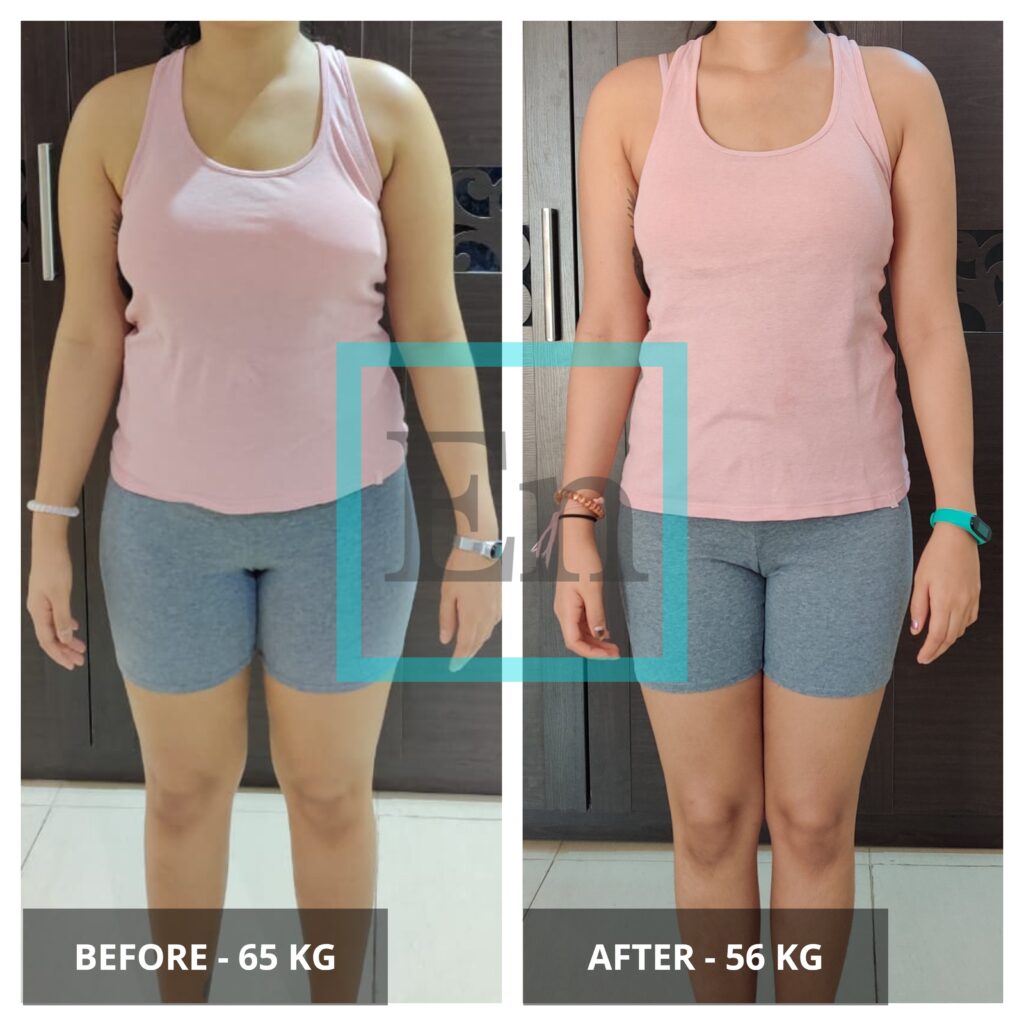 Next, many of her relatives would have a get-together at lunch every Friday. And where there are relatives, there is an ample supply of treats. Eating is an important part of enjoying such occasions so I didn't want to limit her calories in these meals, but I didn't want to give her an all-out binge pass either. Instead, I felt that a better option was to slightly limit her calories in these meals and compensate during the remaining days to balance out the calories.
After The Plan Began
Fullness
When the plan began, she actually felt even fuller than usual for the first few days. You'd expect that she would probably be asking for more food given that I had reduced her food intake. Why did this occur? Mainly because I increased her protein and also because she prefers nibbling on smaller meals than gorging on larger ones.
To help her remedy this I asked her to split the meals into 2 that were separated by at least an hour to be able to eat all the food. Since this plan felt a little too easy and she had also lost more weight than predicted in the first month, we decided to make the calorie deficit more aggressive from the second month.
Of Desserts and Sandwiches
There were a few occasions when she wanted to cook high-calorie foods, such as desserts and sandwiches. We all have these cravings and she certainly deserved a break from the plan from time to time. The good thing was that she would decide when this high-calorie food would be made and let me know weeks in advance. This would give us time to re-adjust the plan to help her fit in those extra calories when the time came.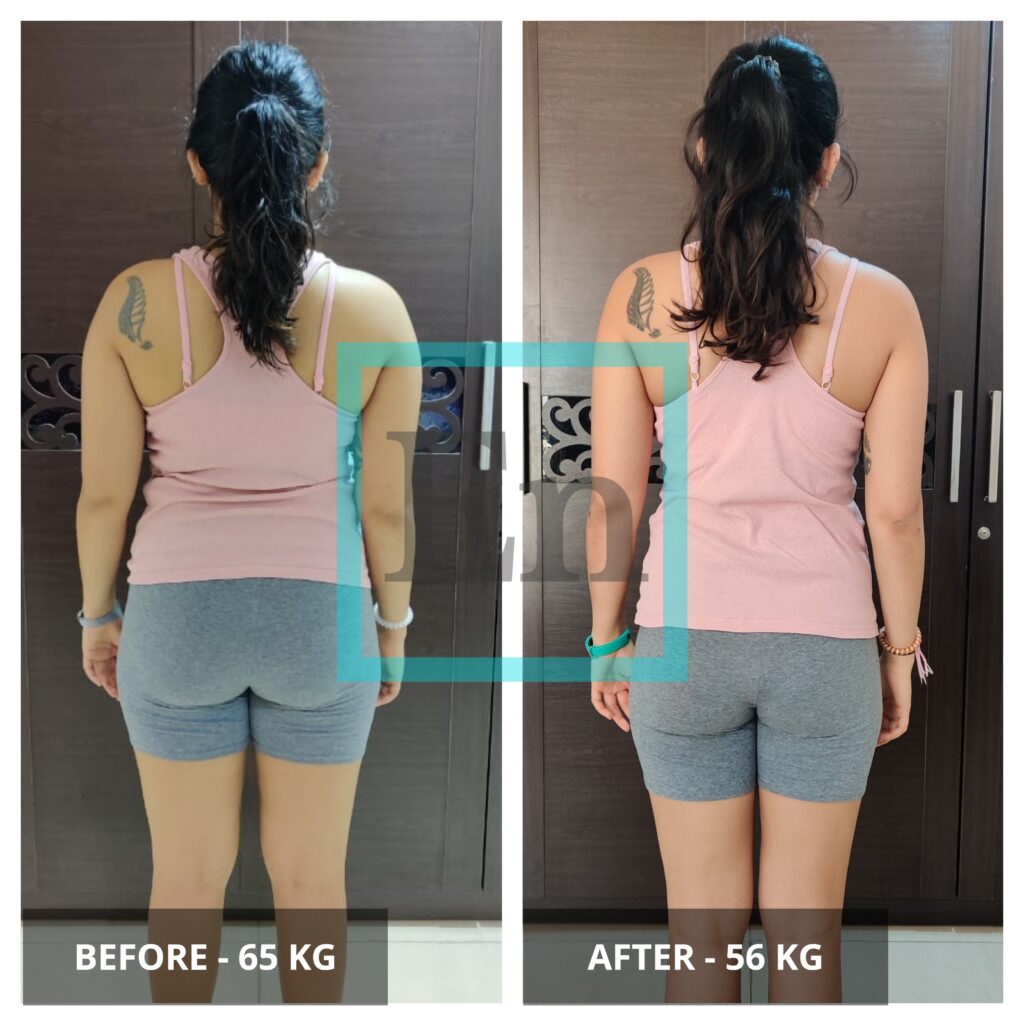 Caution – Christmas Ahead
The next roadblock came during Christmas week and New Year's which is the only time when she ate mostly overate. To help her get back on track we decided to increase her step count to 10,000 steps the following week so that she would burn more calories.
The Plateau
Finally, that phase which both the nutritionist and the client hate happened – the dreaded weight loss plateau. Khushi experienced this in the second half of the plan. If you diet for a long time, you tend to get bored and lethargic. I knew that she wasn't bored so in all likelihood her activity levels had just reduced automatically due to months of dieting. To break the plateau, I put her on a diet break to help her regain any lost energy levels. However, she wasn't eating pizzas and gummy bears during this time, it was a controlled break where most of the extra calories came from protein. This also helped her push herself harder during her workouts thus increasing her activity levels again.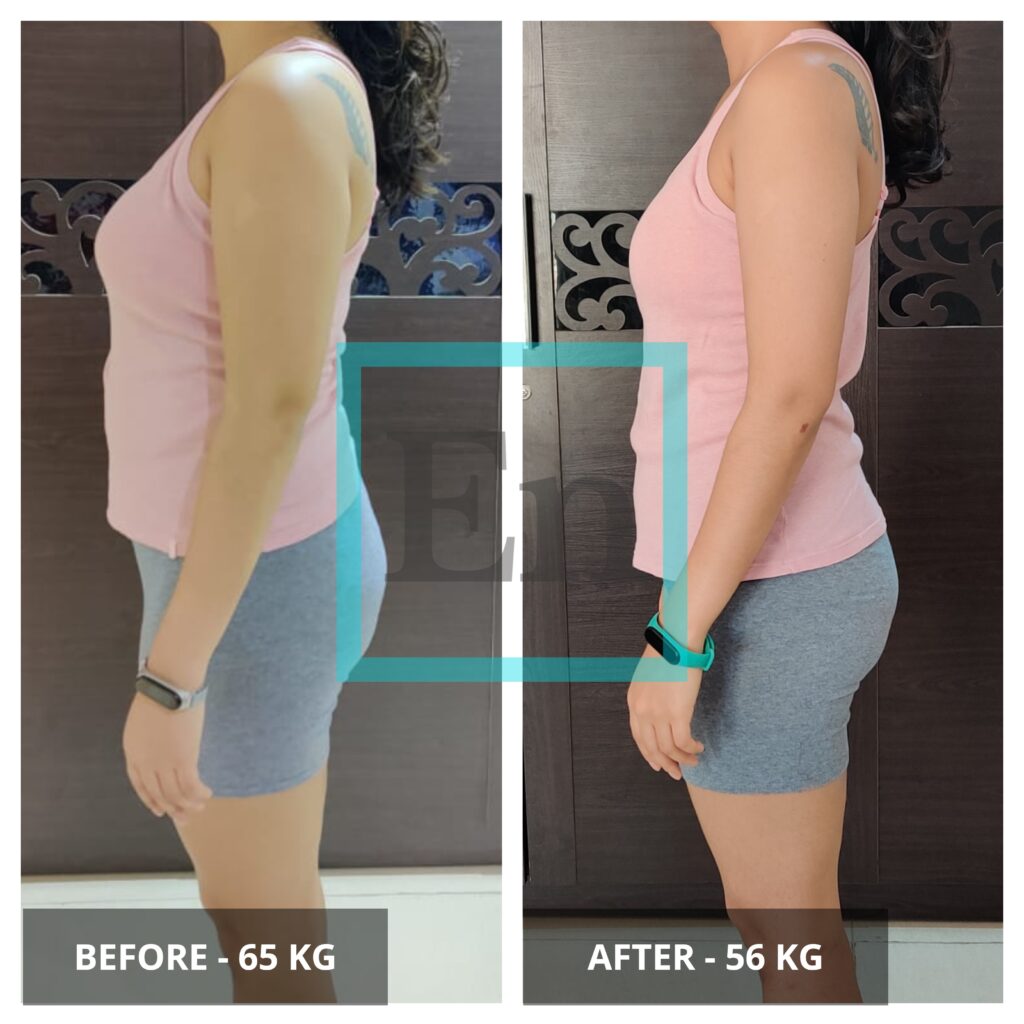 We also gave vegan alternatives a try as she developed an interest in veganism along the way (you can read my posts on veganism here), a diet which she has now almost completely embraced (yay!). We spent the rest of the duration shifting around foods, adding, and removing options based on other factors.
What Worked?
By the end of the plan, Khushi had lost 9 kilos and she continues to lose more weight. I loved the fact that she was very communicative throughout the process and wouldn't hesitate from asking me questions or telling me about a change in her environment. She would tell me in advance whenever she would plan for an outing or a vacation due to which I could plan the changes in her diet in advance.
A particular advantage in her case was that she loves to cook and would cook many of her meals which gave her complete control over the quantity of every ingredient (something which is difficult to achieve in a nuclear family). Finally, Khushi followed all my recommendations religiously, put in the hard work, and persisted even when the progress slowed down. All of these combined led to the results she set out to achieve!
Khushi's Review

Here's Khushi's review as written by her on our Google Business page –
"I started my journey with Element Nutrition with a lot of reservations about weight loss and a lot of misconceptions as well. I think apart from seeing results, this experience has educated me about the ways in which I can manage my eating habits (which is a seriously underestimated skill!). I also think it helped me overcome my fear of a diet, which was largely from the image the media portrays of having to starve yourself or take on extreme challenges. It also helps that now I categorise food in my head into categories like carbs and fats, to be able to exercise appropriate portion control. Instead of fighting my cravings or ignoring them, I am able to reason with myself about what I need and what I don't need. I am really glad I decided to try out Element Nutrition! 🙂"
If you want to lose weight for good sustainably by following a personalized plan like Khushi, give us a call!